I was delighted to learn yesterday that the team at Tripbase.com has designated The Mother of All Trips as one of the top ten Family Travel blogs for 2009. What's particularly flattering about this is the company I am keeping – many of the other blogs on the list are among my personal favorites.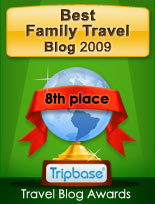 The awards page says that "The best family travel blogs will not only provide quality information, advice and ideas but also back it upwithexperience." Since this pretty much sums up the goal of my site, I'm of course thrilled to know that the judges think this is what I'm doing.
I encourage you to check out the main Tripbase site. They offer an interesting approach to travel planning – you enter your departure location and then choose your interest levels in different categories such as "Nightlife" or "Nature". The Tripbase search engine then gives you a variety of destinations to choose from, based on your preferences. Included are suggestions for hotels, flights, and things to do as well as what the average daily budget is per person.
You may also want to check out the winners in all of the other categories – there's sure to be some great writing and information about all different kinds of travel.